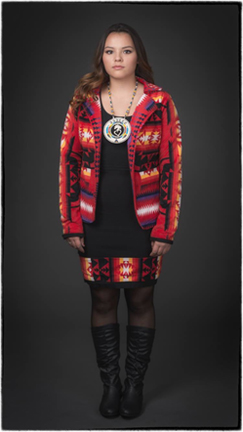 In her debut at Couture Fashion Week New York, Canadian designer Becki Bitternose will present the latest collection for her PlayBuffalo label on the runway at 6:00 pm on Friday September 9, 2016. The fashion show will be held in the Broadway Ballroom at the Crowne Plaza Times Square Manhattan, 1605 Broadway in New York City.
PlayBuffalo designs are outerwear created from the Pendleton Mills Wool Blanket line. Each pattern is created free hand by Becki Bitternose without the use of patterns. Her design inspiration is her "kokums" (grandmothers) Joan and Lillian, whom she watched as a child, making beautiful hand sewn quilts. PlayBuffalo is the traditional name of Ms. Bitternose's family, and she pays homage to her roots as she pursues her fashion career.
Becki Bitternose is from The George Gordon First Nation, Saskatchewan Canada. She started her fashion career in 2013 with no sewing experience or knowledge of using a pattern, setting out to create winter wear for her children out of Pendleton blankets they were gifted as newborns. Four hours later she had her first jacket assembled and ready for her child to wear. Over the past three years, Ms. Bitternose's Pendleton outerwear has grown from being garments purchased solely by First Nation clientele to being a popular design across Canada, with orders pouring in from British Columbia to the east coast.
Becki Bitternose has shown her designs at many important fashion events in Canada, including National Aboriginal Fashion Week, Saskatchewan Fashion Week and International Indigenous Fashion Week. She was a selected candidate competing for the Emerging Designer Award through the Saskatchewan Fashion Week organization.
Click for tickets and more information.