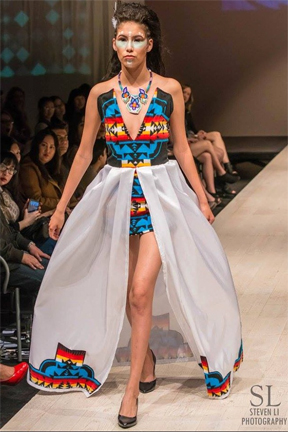 Canadian First Nation fashion designer Tishynah Buffalo will make her debut at Couture Fashion Week New York with the presentation of her latest collection at 6:00 pm on Friday September 9, 2016. Part of the 24th season of the prestigious event, the fashion show will be held in the Broadway Ballroom of the Crowne Plaza Times Square Manhattan, in the heart of the Big Apple.
A member of the George Gordon First Nation, Tishynah Buffalo has had a love of fashion design since a young age, and a special talent for beading and hand sewing garments and accessories. Her design career began with beading for her children and creating Pow-wow regalia. She soon expanded her designs which are a distinctive and elegant blend of the modern with the traditional. The vibrant Chief Joseph print is the trademark of her fabrics.
Within the past year, Ms. Buffalo has shown her designs at a number of high profile Canadian fashion events including Western Canada Fashion Week,  International Indigenous Fashion Week, and Fashion Speaks Regina, among others. She is now poised to expand her fashion business and brand on an international level. She is looking to showcase her indigenous creativity to the world, with  the message that First Nation designs are beautiful, classy, and original and cannot be replicated.
Click for tickets and more information.