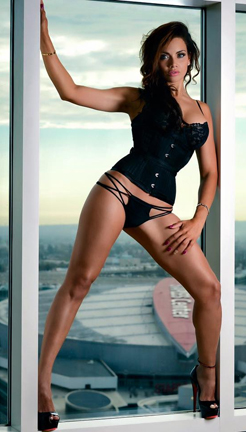 New York's very own celebrity police officer, model, and entrepreneur Samantha Sepulveda will walk the runway as a special guest at the Andres Aquino fashion show during the upcoming 27th season of Couture Fashion Week New York. Ms. Sepulveda will also receive a special achievement award recognizing her charitable work and entrepreneurial accomplishments. The event will be held at 8:00 pm on Saturday February 10, 2018 at the Crowne Plaza Times Square Manhattan in New York City.
Samantha Sepulveda is an 8-year police veteran and holds an MBA in Finance from Hofstra University. As a model she has appeared on several major magazine covers and in features worldwide in such publications as FHM, Maxim, GQ, Muscle & Fitness and Inside Fitness, as well as in articles in the New York Post, The Daily Mail and many more. She recently appeared on the cover of MMA Uncaged Magazine alongside Rhonda Rousey. She has also appeared on many important television programs including Fox 5, Good Day New York, Pix 11, TMZ, Don Francisco, Univision, Telemundo, and more. Ms. Sepulveda was recently named Australia's Most Inspirational Woman of 2016, ModelsMania 2017 Model of the Year, and is currently an ambassador for 'Kiss Domestic Violence Against Women Good Bye' and works closely with the community and children Adopt-a-Cop program. She recently walked the runway at Couture Fashion Week New York.
In addition to Samantha Sepulveda's law enforcement and modeling work, she is also a world traveler, owner of her own clothing line, and author of a forthcoming motivational book. Her organization, Sepulveda Equities, recently joined forces with Apple Orchard to construct a Power Plasma plant in Thailand which will transform waste into renewable energy, while creating jobs and cleaning the local water supply. Samantha Sepulveda is an inspirational figure who continues to break stereotypes.