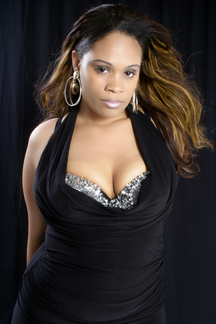 Princess Angelique Monet is one of the world-class entertainers scheduled to perform at the upcoming Cannes Fashion and Global Short Film Awards Gala. The event will be held on Saturday May 20, 2017 at the iconic Intercontinental Carlton Cannes in Cannes, France. She will be performing with Dr. Raghunath Manet, the renowned classical Indian musician and dancer, and Chevalier Award recipient.
Princess Angelique Monet is an American multi-media talent, former Ms. Black South Carolina USA and the owner and CEO of Greta Joanne Entertainment. She is also a stage actress and ventriloquist. In 2001 she appeared Off-Broadway on Theater Row with her one-woman show Multiple Me written by Edgar Chisholm. In November 2017 she will return to Off-Broadway with the opening of a Vaudeville thematic production. She is recognized for her role in changing modern day ventriloquism in A History of Modern Day Ventriloquism. Angelique Monet is also a singer, pianist and composer who has an album on iTunes entitled Not Wasting Time, as well as a film producer, writer and director. She made her directorial debut with the short film BitterSweet, which screened at the Cannes International Film Festival Short Film Corner (SFC) in 2005. Her feature film, Deceptive, premiered at the Marche du Film during the Cannes International Film Festival Festival in 2010. She had a theatrical release through her own releasing company at Big Cinema in New York City.
Angelique Monet has a five octave vocal range, multiple ventriloquist figures and voices, and has opened for prominent entertainers including Sinbad, Brian McKnight, and more. She performs in multiple genres including Jazz, R&B, Classical, Pop, Electronica, New Age, and World Music.
As a public speaker, Angelique Monet has addressed the African Union Headquarters in New York City, the United Nations, and numerous schools, universities, and churches. She has appeared on panels with diplomats, celebrities, politicians, and humanitarians. Her themes include world peace relations, indigenous preservation, self esteem, women's empowerment, and her own experience with autism when, unable to speak, she was able to use music to open her mind, and the ancient art of ventriloquism to find her voice.  Princess Monet is also the recipient of numerous humanitarian accolades including the Global Icon Ladies Award, Afrique 360 Humanitarian and Contribution to Arts award. Princess Angelique Monet is a Knight of the Order of Sylvester and a Dame in the OSJ Order of Malta, and the Masonic-affiliated ladies auxiliary groups the Order of the Amaranth and the Order of the Eastern Star.