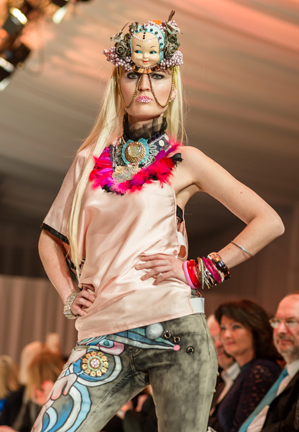 Slovakian artist and fashion designer Laura Spörerova will present her latest creations during the upcoming 26th season of Couture Fashion Week New York. Part of the 12th Annual Slovak Fashion Night, in partnership with CFW,  the fashion show will be held at 8 pm on Saturday September 9, 2017 at the Crowne Plaza Times Square, Manhattan, during the Fall 2017 New York Fashion Week.
A native of Slovakia, Laura Spörerova currently lives in Amsterdam, The Netherlands. She is a painter, photographer and stylist / customizer artist.
"Painting is what I love the most, but in time I felt close with the world of photography and the creation of crazy masks," says Ms. Spörerova. "In 10 minutes of the fashion show, I'd like to share and enjoy with the people a blend of different kinds of artistic expression, paintings, fashion styling and crazy customs.  All these things are rolling in my head since early in my life and I guess will never stop."
Ms. Spörerova's recent career successes include a collaboration with Italian Playboy magazine editor Nicole Lustolin in an interview and photos of her work, as well as presentations of models in alternative fashion shows. She has cooperated with numerous artists at events and exhibitions throughout Europe including Hippie Market-Den Haag (The Netherlands), Unleashed, Wasteland, Club bizzare-Boudoir bizzare, Kimera's World, Peter Diablow, Hank Janmahomed, Hans Rietbergen, Lucia Palsovic, Lubica Cintulova, Guendalina Danelutti and Nereida Lopez. She has participated in exhibitions such as Mien koffie en brood-Den Haag and Cremers-Den Haag (The Netherlands), Slovakian events Tryskáč (Bratislava), Hotel Enchanté (Prešov), Galeria v Caraffovej väznici (Prešov), and International Fashion Night 2017 (Bratislava), as well as an exhibition of her models in "Angel" during French Film Week.