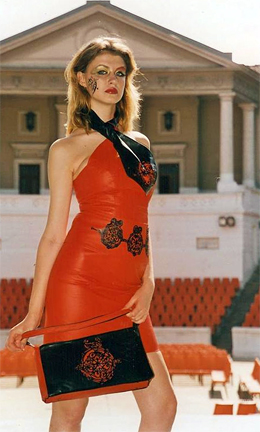 New York-based artist and designer Alexandra Popescu-York will present her latest collection at Couture Fashion Week in New York City at 6:00 pm on Sunday February 16, 2014. The fashion show will be held in the Grand Ballroom of the landmark New Yorker Hotel, 481 Eighth Avenue in the heart of the Big Apple's Fashion District.
Alexandra Popescu-York earned her Bachelor's degree in Plastic and Decorative Arts from the prestigious National University of Arts in her native Bucharest, Romania. Her distinctive creations are emotional, vivid and symbolic. Combining her design work in the fashion industry with a true passion for painting, Popescu-York created a style uniquely her own, a bridge between fashion and art.
In addition to her fashion show on February 16, Ms. Popescu-York will be exhibiting her artwork at throughout the Couture Fashion Week event, February 14-16, 2014.