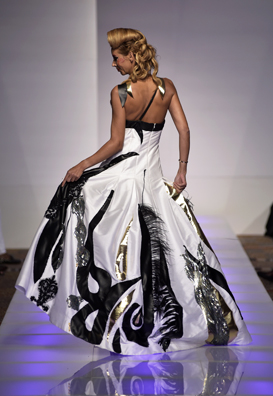 Acclaimed artist-designer Alexandra Popescu-York will make her fifth appearance at Couture Fashion Week New York with the showing of her latest collection entitled "Unleashed." A regular favorite of CFW audiences, Ms. Popescu-York's fashion show will be held at 6:00 pm on Sunday February 14, 2016 in the Broadway Ballroom of the Crowne Plaza Times Square Manhattan, in the heart of the Big Apple.
"Unleashed" is a splendidly rich Fall-Winter 2016 collection of garments and accessories with a glamorous avant-garde look that is as edgy and unique as the emblematic New Yorker. The collection features one-of-a-kind intricately detailed pieces of clothing, jewelery and handbags made of select, finely embroidered fabrics. It is a collection for the woman whose presence is a statement that captures the eye and soul at first sight and remains the center of everyone's attention until the end.
In addition to her fashion show, Ms. Popescu-York will also have a three-day exhibit of her paintings during Couture Fashion Week, February 12-14, 2016. Both her fashion collection and the art she will exhibit are inspired by the vibrancy of New York City.
Romanian-born, New York City-based designer and artist Alexandra Popescu-York (also known as Alexandra Suciu in her roles as wife and mother) has fast emerged on the global stage of visual arts and the fashion industry. She has garnered numerous accolades, with the most recent being the inclusion of her paintings in the United Nations' 70th anniversary international art exhibition. Ms. Popescu-York's humanitarian efforts have earned her the title of "Ambassador of Good Hearts and Romanian Culture".
Ms. Popescu-York's creations are characterized by each piece's exquisitely symbolic depiction of carefully selected themes. Recent themes include "Âme de l'artiste" (soul of the artist), "Phoenix – The Legend", "Metropolitan" (inspired by art, history and civilization highlights from the Metropolitan Museum of Art), and "GranD'Or", a collection based on Ms. Popescu-York's own artistic creations. In recent years, four of Alexandra Popescu-York's monumental paintings, including the renowned "New York– Past, Present and Future" tryptic, were designated as background pieces for shows by Couture Fashion Week producer and designer Andres Aquino, an admirer and supporter of Ms. Popescu-York's creations.