Couture Fashion Week New York presents "Cannes Red Carpet Fashion", a special program of fashion shows by exceptional international designers, produced by Andres Aquino on Friday May 22, 2015 at the Cannes Fashion Festival. The venue will be the Salon Croisette at the Hotel Majestic Barriere, across from the world-famous red carpet at the Cannes International Film Festival. Andres Aquino is the founder and producer of Couture Fashion Week New York, now entering its 22nd season. #CannesRedCarpetFashion
Designers scheduled to show on May 22 include:

FATEMA ISMAEIL (Kuwait). Fatema Ismaeil is one of the Middle East's most prominent couture designers. She is the founder and driving force behind the Al Malaky Fashion House and has shown her designs at numerous prestigious fashion events throughout the region as well as in Europe. She is especially noted for her exquisite evening and bridal creations, and is a favorite designer of many prominent celebrities, socialites and members of royalty.
NOOR AL-JANDAL (U.A.E.) . According to Noor Al-Jandal, "there is no right or wrong in fashion, just the character you would like to be that day." Dubai's luxury and vibrant colors have always inspired Noor Al Jandal's designs. Her couture line features signature cuts that emphasize a woman's femininity, opulent fabrics and exquisite embroidery.
HENGKI KAWILARANG (Indonesia). Hengki Kawilarang brings legacy Bumi Ruwa Jurai to Cannes Red Carpet Fashion at the Cannes Fashion Festival. Mr. Kawilarang's designs have been featured in various fashion and lifestyle magazines such as High End, Cosmopolitan, Marie Claire, Clara and many more. His fashions are worn by celebrities in Indonesia as well as international clients from Asia to the USA.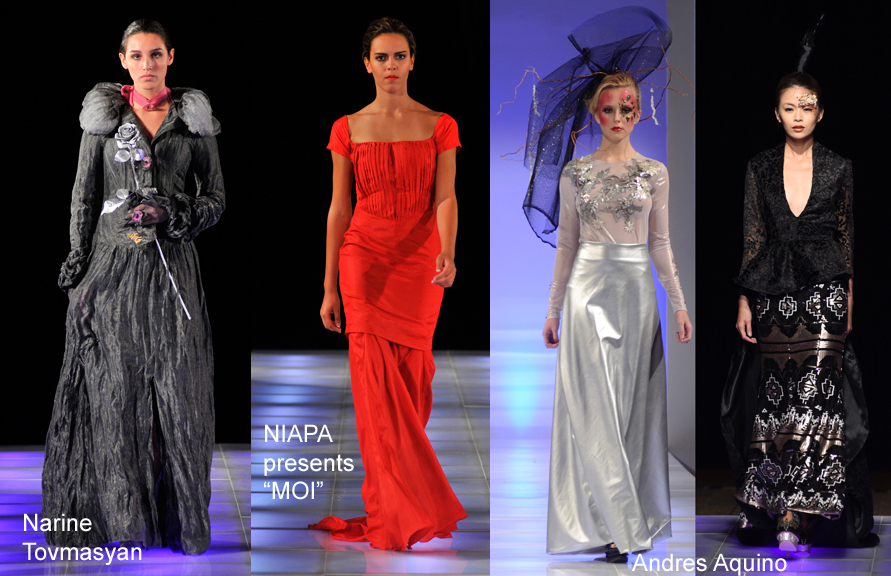 NARINE TOVMASYAN (Russia). With the theme "Live for Beauty", Narine Tovmasyan's creations strive to connect Renaissance styles with the modern age. Her distinctive evening gowns embody the stylish elegance and greatness of spirit of previous eras juxtaposed with the dynamics and rhythm of today. She recently made her USA debut with the showing of her latest stunning collection at Couture Fashion Week New York to enthusiastic reviews.
NORTHEAST INDIA ACADEMY OF PERFORMING ARTS (NIAPA) presents "MOI" (India). With the tag line "Defining yourself", MOI wants every woman and man to feel comfortable yet empowered with their own unique sense of self. The fashion house deals in designer menswear and womenswear, with its signature formal wear and bridal gown collections. Taking a step towards fashion marketing, MOI makes extensive use of the exquisite local textiles and indigenous silks, particularly those produced by local weavers from the northeastern Indian region, while infusing these into other readymade fabrics. The result is a unique brand with universal appeal.
ANDRES AQUINO (USA). Andres Aquino, a fixture of the New York fashion scene, is an award-winning fashion designer and also the founder and producer of Couture Fashion Week New York. He deems fashion to be wearable, stylish and fun. His semi-annual runway fashion shows in New York have become well-known for their mix of charm, fantasy, music and dance, blending Broadway entertainment with delightful luxury fashion and pleasant surprises. He has been featured in numerous top fashion media and publications worldwide including Collezioni, Book Moda, TotalPrestige, ModaStyle International, Fox TV, Fashion TV, Russian TV, Chinese TV, and many more.