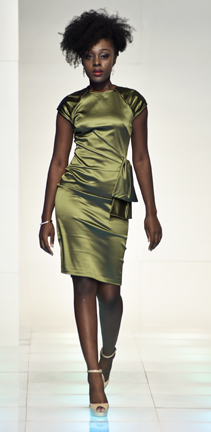 Designs by Felisha will once again grace the runway at Couture Fashion Week New York with her "Reinventing Couture" fashion line. The collection by designer Felisha Dee Bullock will be shown on the runway at 4:00 pm on Saturday September 10, 2016 at the Crowne Plaza Times Square Manhattan, in the heart of the Big Apple.
Often called the "Queen of Satin," Dr. Felisha Dee Bullock is a native of North Carolina. She is an author, entrepreneur, workshop speaker, conference facilitator, business owner and founder of Designs By Felisha, FDB Consultants & Associates, and the Women in Business Alliance Network. Dr. Bullock has over 18 years of federal service, with her last assignment with the Executive Branch Office of the President.
Felisha Dee Bullock has had a passion for fashion design since childhood, but only recently began to pursue  her dreams. She has designed gowns for college pageants and bespoke wedding gowns for her discerning clientele. She showed her designs on the Couture Fashion Week runway for the first time in September 2015. In 2006 Dr. Bullock published her first book entitled Was It Worth the Look-Let Go of Your Past. Her motto is "your gift will make room for you".