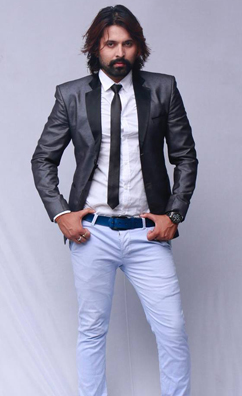 Renowned Nepalese model and entertainer Dipak Ghimire will walk the runway during the upcoming Andres Aquino fashion show at Couture Fashion Week New York. Part of the prestigious event's 23rd season, the show will be held at 8:00 pm on Saturday February 13, 2016 at the Crowne Plaza Times Square Manhattan, 1605 Broadway, New York City. It will present Mr. Aquino's latest collection entitled "Elysium Fields."
A well-known personality in India and Dubai as well as in his native Nepal, Dipak Ghimire began his career as an event organizer. Now based in Kathmandu, he and his team have produced numerous entertainment events including high-profile beauty pageants, fashion shows, musical tours, musical events and many more. Mr. Ghimire is also a successful fashion and print model, and has appeared in a number of music videos as well. He especially enjoys his work as a model. As a beauty pageant producer, where he gets great satisfaction from inspiring young participants to reach their potential and believe in themselves.
As an established media personality in the entertainment field, Mr. Ghimire looks forward to a bright future of event management. "We are seeing a steadily increasing number of events in our part of the world," says Mr. Ghimire. "There are many positive developments and much growth potential in this sector of entertainment."
At the February 13, 2016 show in New York, Dipak Ghimire will be part of designer Andres Aquino's latest signature fashion and entertainment presentation.