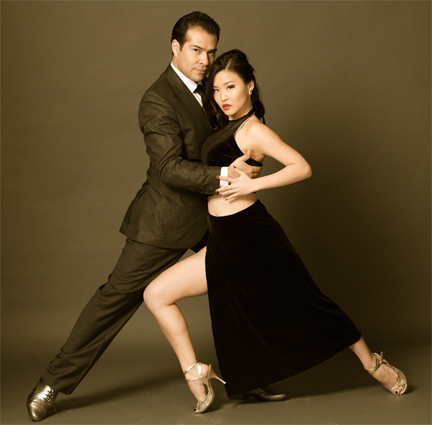 Among the world-class entertainers scheduled to perform during the 25th season of Couture Fashion Week in New York are tango dancers Jose Delgadillo and Helen Wang. The mesmerizing dance duo will perform during the Andres Aquino fashion show at 8:00 pm on Saturday February 11, 2017 at the Crowne Plaza Times Square Manhattan in New York City.
Jose Delgadillo and Helen Wang are a young tango couple who address the dance from an intimate relationship with the Argentine tango essence. The dancers convey passion, intensity, sensuality and emotion in their performances — all the things that remind audiences why they love the tango. They are a couple with unique backgrounds and personalities that always bring surprises to the audience.  They have performed in famous shows such as Rhythm and Passion and Dance Fever, among others. In 2013, they won top awards at the USA Tango Championship NYC "Stage" Tango. They were invited to perform and teach at the prestigious La Nacional milonga (a place where the tango is danced) in New York City, as well as at other renowned milongas in New Jersey (Milonga Viviana), and Long Island (Tango Lover), to name a few.
In 2016 Jose and Helen performed at the iconic Lincoln Center in New York City with a one-of-a-kind fusion dance of tango, salsa and Chinese elements. Among the audience members were Senator Chuck Schumer and Chinese celebrity Jin Xing.  Their show was featured by several major television stations including CCTV, TVB and Sinovision. In 2015 Jose and Helen were special guest performers at the USA Chinese American Beauty Pageant. In Argentina, they have studied independently and together with world tango maestros, including Eduardo Terrazas, Beatriz Herrera, Roberto Herrera, Ivan & Sara, Pablo Pugliese, Carlos De Chey, Julio Balmaceda, Corina de la Rosa, Pancho Martinez and Lorena Ermocida, Alejandra Gutty, and Guillermina Quiroga. They were also invited to showcase at milongas in Mendoza, Argentina, Jose's hometown. Together, this rising couple brings their skills, passion and background in Ballet, Jazz, Salsa, Flamenco, and Folklore into the soulful Argentine Tango. They currently offer group and private tango lessons at major dance studios in Manhattan.