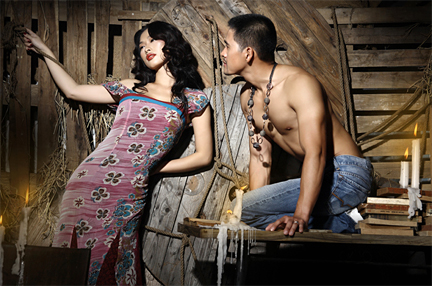 Vietnamese celebrity designer Vo Viet Chung will present his most recent inspired collection for Spring 2015 at Couture Fashion Week in New York. The highly-anticipated fashion show will be held at 6:00 pm on Saturday September 6, 2014 in the Broadway Ballroom of the Crowne Plaza Times Square Manhattan, 1605 Broadway, in the heart of the Big Apple, the world's fashion capital.
With an eye for trends and a distinctive original style, Vo Viet Chung, has firmly established his name worldwide and operates two highly successful boutiques in Vietnam. Each garment is impeccably crafted to perfection with keen attention to detail. His vision is to create unique and exclusive one-of-a-kind pieces with the highest quality materials and a refined finish. He is known for his glamorous, elegant and sophisticated creations which reflect an amalgam of classic and traditional Vietnamese design and its dynamic and vibrant modern culture.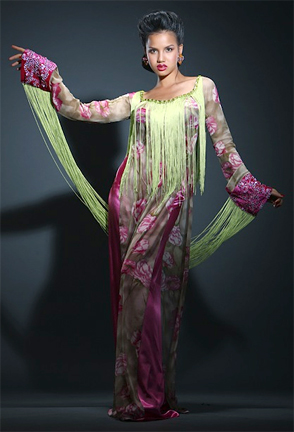 Vo Viet Chung has showcased his designs on many television programs and at prestigious events around the world including Vietnam and Japan Cultural Week in Tokyo and the J Autumn Fashion Show in London. At Asian Fashion Week in 2011, he presented two collections under the theme "Asian Heritage Silk" made from traditional fabrics. During that event, the designer was recognized with a Guinness World Record for his stunning creation of an "Ao Dai" (traditional Vietnamese gown). The dress was made of 1,000 meters (over 3,200 feet) of fabric, including traditional silk from villages across the Vietnam. The tunic had nine trains, each 100 meters (over 300 feet) in length, symbolizing the nine branches of the Cuu Long River delta. It was decorated with gold and more than 2,000 diamonds. The costume also included a turban known as a "Vietnamese crown", made from 0.5 kg (over 1 pound) of gold and encrusted with 2,000 diamonds.
In 2013, the Vietnam Environment Protection Fund appointed Vo Viet Chung as director of the "Blue Ocean World" project. He is also the founder of Vietnam's Miss Ocean Beauty contest.
For more information visit www.VoVietChung.com
---
Couture Fashion Week is a multi-day event showcasing couture and luxury fashion. It also includes exhibits of luxury brands and fine art as well as world-class entertainment and parties. The event is held twice a year in New York City and is attended by upscale consumers, invited VIPs, the press and high-end store buyers. Couture Fashion Week offers unique promotional opportunities for luxury products and services.
Visit the event website for more information: www.CoutureFashionWeek.c
om
Photos courtesy of the designer.
© USAFashionShows.com, CoutureFashionWeek.com, An Andres Aquino Production.
All Rights Reserved.