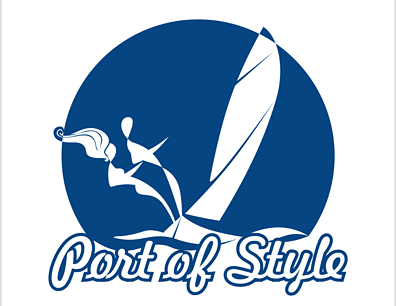 Andres Aquino, fashion designer, founder and producer of Couture Fashion Week, is plunging into the world of yachts and cruises with the launch of a luxury line of cruisewear under the brand Port of Style. For this line Mr. Aquino has joined forces with New York entrepreneur and fashionista Magdaline Delany, Founder of Oceanie Club and Entrepreneurs and Professionals' Network. Port of Style will be featured on the runway at Couture Fashion Week, 8:00 pm on Sunday September 8, 2013 in the Grand Ballroom of the New Yorker Hotel, 481 Eighth Avenue.
The Port of Style collection is a mix of exquisite swimwear and wraps. The wraps also double as beautiful gowns when worn without a swimsuit. The collection includes the first-ever fashionable life jacket. Andres Aquino, known for his designs of luxury gowns and his theatrical show productions, brings his distinctive flair to Port of Style. When asked how he arrived at the brand's name, Mr. Aquino replied "I worked with my creative team to search for a name that would reflect the philosophy of this fashion line. Ports are exciting, bustling and fashionable locales. Since both Maggie and I are originally from the Caribbean, and are familiar with boats coming and going in the island ports, it made sense to include that concept. From the golden age of luxury cruises through today's iconic liners, fashion has a special place in maritime experiences, and Port of Style strives to reflect that."
According to Ms. Delany, "This nautical line is the culmination of a common vision that Andres and I have shared for our love of the seaside and ocean life. The collection is unique, stylish, eclectic and functional. The selection and approval of each piece was organic."
The line is expected to be available online late in 2013.
Store and boutique buyer inquiries are welcome.