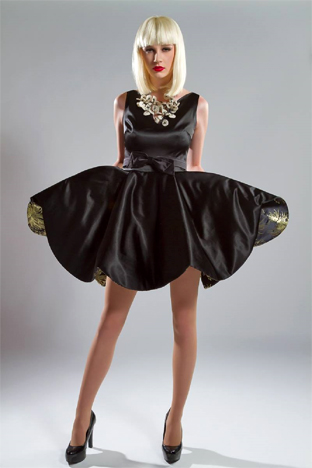 Award-winning veteran couturier Nina Gleyzer will make her fourth appearance at Couture Fashion Week New York with the presentation of her latest collection "Nostalgie: Le Fin Mot". The collection will be accessorized with head pieces by Natalya Bythewood. The fashion show will be held at 8:00 p.m. on September 6, 2014 at the Crowne Plaza Times Square.
As this is Nina Gleyzer's final runway appearance, she designed a couture farewell collection inspired by her two loves: France, and '50s fashion. Capturing an era-gone-by, this collection reflects a time when women sat in front of perfume-filled vanities to paint their faces and powder their noses, before dressing up in beautifully tailored dresses for coffee with friends. "That's how I envision women: chic, elegant… simplistic," says Nina. "Nostaligie: Le Fin Mot" pays homage to the '50s woman with a nod to French grandeur through the use of rich fabrication and exquisite pattern making.
Green, gold, cream, and carmine red are a departure from Nina's usual all-black collections. And where black is utilized, it is expertly complemented with colorful lining. Silk cloque, embossed silk, and lightweight wool form the basis for scalloped edges, full skirts, pleats, and impeccable tailoring. Attention to detail gives this collection a luxurious feminine look, ideal for today's woman.
Although Nina is retiring from the runway, she continues to design one-of-a-kind pieces, as well as teach couture construction classes out of her studio in Atlanta, GA. To inquire about class availability, make purchases, and/or follow her blog, please visit www.ninagleyzer.com
---
Couture Fashion Week is a multi-day event showcasing couture and luxury fashion. It also includes exhibits of luxury brands and fine art as well as world-class entertainment and parties. The event is held twice a year in New York City and is attended by upscale consumers, invited VIPs, the press and high-end store buyers. Couture Fashion Week offers unique promotional opportunities for luxury products and services.
Visit the event website for more information: www.CoutureFashionWeek.c
om
Photo courtesy of the designer.
© USAFashionShows.com, CoutureFashionWeek.com, An Andres Aquino Production.
All Rights Reserved.