A Duality of Delicateness and Strength in "Essence" Couture Bridal Designs by Isabel Zapardiez

A selection of stunning couture bridal creations by Spanish designer Isabel Zapardiez will be shown on the runway during the next Couture Fashion Week in New York City. The fashion show will be held at 6:00 p.m. on Friday, February 17, 2012 in the iconic Grand Ballroom of the world-famous Waldorf Astoria hotel.
Designer Isabel Zapardiez envisions a bride enveloped in delicateness but with a strong heart and spirit; ethereally-figured women with an emphatic presence, genuine goddesses. A duality of courage and subtlety which complement each other. Just as each woman is unique, each of the designer's creations is also unique, with a predominant theme in the "Essence" designs being lightness and simplicity of design.
Isabel Zapardiez's inspiration comes from a tour through the fashion world of the 1950's, and the great masters of design, as well as from an aesthetic look at the ancient worlds of Egypt and classical Greece. Ms. Zapardiez brings these influences together in her impeccable draping and pleating, distinctive necklines, handcrafted embroideries, braided leather appliqués, and the use of gold. Her creations are also reminiscent of the great film divas of the 50's: fabulous, feminine and very cosmopolitan. The design silhouette is delicate, sensuous and body conscious, with a vintage sensibility. Silk is the predominate fabric, with additional use of satin, muslin, organza, tulle and brocade, as well as touches of guipure and Chantilly lace, crystals, mother-of-pearl and silver.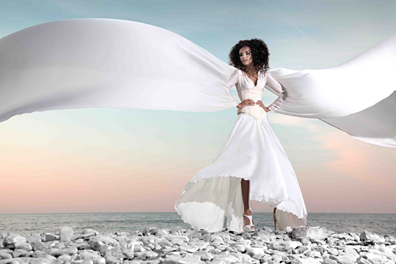 A native of San Sebastian, Spain, Isabel Zapardiez began her fashion career over 15 years ago with an early focus on sewing and pattern design. She earned a degree in fashion design after pursuing studies in Madrid, Barcelona and at the University of Pais Vasco. She worked as a freelance designer in both pret-a-porter and couture bridal and formal wear for several fashion houses before launching her own atelier in San Sebastian in 2002. Ms. Zapardiez personally oversees the entire design and manufacturing process of her creations. Her timeless, elegant and sophisticated style fuses the avant-garde with the traditional. Ms. Zapardiez's current focus is on the creation of her annual collections and participation in professional events and catwalks, as well as cooperation with other fashion companies.
For more information visit
www.isabelzapardiez.com
---

Couture Fashion Week is a multi-day event showcasing couture and luxury fashion. It also includes exhibits of luxury brands and fine art as well as world-class entertainment and receptions. The event is held at the Waldorf-Astoria in New York City and is attended by upscale consumers, invited VIPs, the press and high-end store buyers. Couture Fashion Week offers unique promotional opportunities for luxury products and services.

Visit the event website for more information: www.CoutureFashionWeek.com

---

Top photo: Lucho Rengifo. Bottom photo: G. Hafsteinsson and J. Villabetia.
© USAFashionShows.com, CoutureFashionWeek.com, An Andres Aquino Production.
All Rights Reserved.