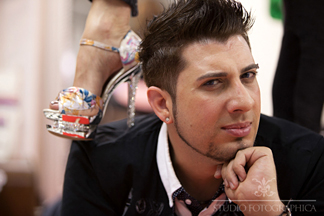 In his second appearance at Couture Fashion Week, designer Giovanni Lo Presti will present his latest collection at 6:00 p.m. on Saturday September 15, 2012 in the iconic Grand Ballroom of the world-famous Waldorf-Astoria in New York City.

For his unique designs in such sumptuous materials as leather, wool and silk, Italian fashion designer Giovanni Lo Presti has rapidly gained an enviable reputation amongst fashion aficionados attracted to exquisitely made, high-quality, sophisticated and luxury ready-to-wear designs.

Based in

Switzerland, the 30 year old designer is a rising star on the Swiss fashion scene. His past and present clients include major companies, brands and celebrities such as Moët & Chandon, Swatch, Swarovski, L'Oréal, Great Lengths Paris, Polo Ralph Lauren, Goldwell, Henniez, Femina, Tag Heuer, Thierry Muggler, Fatima Lopes, Zuhair Murad, Lewis Hamilton, Lara Fabian, Johnny Hallyday, Antonella Lama, Andrea Lehotska, Elodie

Gossuin, Irène Salvador, Vincent McDoom, Tonya Kizinger and the International Olympic Committee for the 2012 Olympic Games.

Mr. Lo Presti has also collaborated with Fani Xenophontos in Cyprus, by whom he was selected and invited to assist as a designer. His work received much praise and was featured in a three-part documentary made by Swiss television about the international adventures of this Swiss fashion star.

Since launching of his designs in 2004, Mr. Lo Presti's creations have been presented in several major fashion capitals including Paris, Nice, Cannes, Milan, New York, London, Nicosia, Göteborg, Zurich, Geneva and Lausanne.

His designs have also been shown at the Cannes Film Festival, in

2005 for Chopard, and in 2008 - 2012 for Rouge FM Ambassador.

Mr. Lo Presti is currently working as a freelence designer and artistic director for different brands and shows all over Europe. He is also developing and promoting his own brand GIOFASHION and Dolce Vita by GLP.