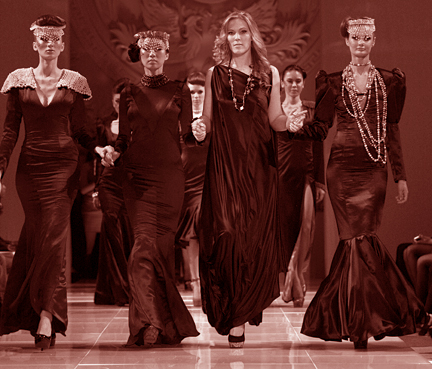 "Mon Amour" by Andres Aquino is the new collection of elegant evening, cocktail and suit designs to dress the glamorous woman. The fashion show, part of Couture Fashion Week New York, will be held at 8:00 p.m. on Saturday February 15, 2014 at The New Yorker Hotel.
The color palette for the "Mon Amour" collection is predominantly black, gold and radiant orchid. Distinctive features include visible rich linings, attention to detail and fine embellishments. Andres Aquino's fashion designs are inspired by poetry, art and dance. "Mon Amour fits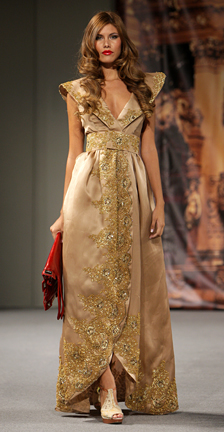 perfectly with Valentine's weekend," says Mr. Aquino. "Let's celebrate love: the dearest sentiment among humans and a perfect tribute to glamorous and fashionable women."
Andres Aquino deems fashion to be wearable, stylish and fun. His semi-annual runway fashion shows in New York have become well-known for their mix of charm, fantasy, music and dance, blending Broadway entertainment with delightful luxury fashion and pleasant surprises.
He is a firm believer that professional fashion shows should not be just for the trade, but for all people who buy and enjoy fashion, and his models reflect the variety and diversity of New York's rich ethnic and racial melting pot. Mr. Aquino always likes to touch the emotional core of the audience with his shows and meet his clients and fans in person.
Andres Aquino is a truly passionate artist: fashion designer, poet, fine art photographer and show producer. He has been designing since 2008, and has presented collections at fashion events in New York City, Miami and Palm Beach as well as outside the USA in Dubai, Romania, the Dominican Republic, India, St. Croix, Mexico, and other countries. His work has been featured in publications and media worldwide including Collezioni, Book Moda, Fashion TV and many more. He is also the founder and producer of Couture Fashion Week New York credited with putting New York on the couture map, previously by default the exclusive domain of Paris.
Tickets to the show are available online at: http://www.couturefashionweek.com/tickets.htm
---