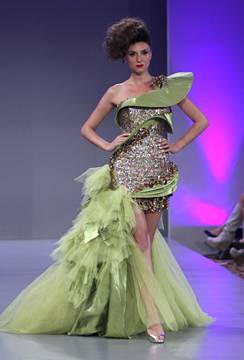 In a highly anticipated fourth appearance at Couture Fashion Week in New York City, acclaimed Middle Eastern designer Amal Sarieddine will present her latest collection of distinctive evening wear on Saturday February 16, 2013. The runway fashion show will be held at the New Yorker Hotel, 481 Eighth Avenue, in the heart of the Big Apple's Fashion District.
A native of Lebanon, Amal Sarieddine is continuing the impeccable fashion design legacy of her mother, Nawal Sarieddine, who established her own fashion house over forty years ago. Amal credits a good portion of her success in the highly-competitive fashion industry to the distinctive sewing, embroidery and embellishment techniques she learned from her mother.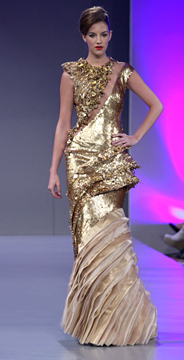 "I use the traditional and authentic techniques of older generations of tailors," she says, "in contrast with the new reliance on assembly-line production and outsourcing of embroidery and assembly to China or India."
Ms. Sarieddine's atelier preserves this heritage with experienced tailors — many of whom began their careers under her mother — passing their knowledge on to the younger generation.
Amal Sarieddine earned a degree in fashion and interior design from the Lebanese American University and went on to launch her own collection in Beirut in 2004, a city synonymous with luxury couture style and home to such fashion icons as Elie Saab, Georges Chakra and Georges Hobeika. Her designs were immediately applauded and sought out by the cream of Middle Eastern society including many celebrities and the royal families of Saudi Arabia, Kuwait, Qatar and the United Arab Emirates. Her clientele also includes prominent socialites and celebrities from Europe and the United States.
A talented designer known for her breathtaking opulent evening and bridal gowns, Amal Sarieddine has presented her collections in the Middle East, Paris, Hollywood and New York. Her designs have been featured in such prominent fashion publications as Collezioni Haute Couture, ModaStyle International and Book Moda.
Visit the designer's website for more information: www.amalsarieddine.com
---
Couture Fashion Week is a multi-day event showcasing couture and luxury fashion. It also includes exhibits of luxury brands and fine art as well as world-class entertainment and receptions. The event is held twice a year in New York City and is attended by upscale consumers, invited VIPs, the press and high-end store buyers. Couture Fashion Week offers unique promotional opportunities for luxury products and services.
Visit the event website for more information: www.CoutureFashionWeek.com
---
Contacts | Event Schedule and Tickets | Home

© USAFashionShows.com, CoutureFashionWeek.com, An Andres Aquino Production.
All Rights Reserved.