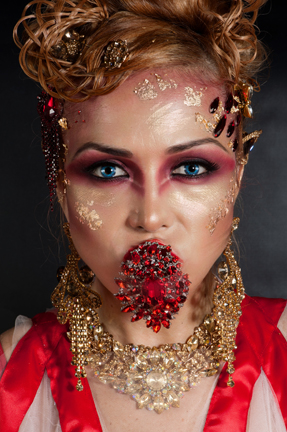 Returning to Couture Fashion Week New York for her seventh consecutive season, Manhattan-based top designer and artist Alexandra Popescu-York will present her latest collection entitled "Modern Warrior Queen." Part of CFW's 25th season, the Fall-Winter 2017 collection will be shown on the runway at 6:00 pm on Sunday February 12, 2017 in the Broadway Ballroom of the Crowne Plaza Times Square Manhattan, New York City.
Ms. Popescu-York's latest audaciously-named collection pays dazzling tribute to today's equally bold female figure who graciously reveals her barrier-breaking spirit with each conquest, made by her strong and generous soul, sensitive heart and inquisitive mind. This dramatic new couture collection, exclusively made in New York, seamlessly brings together the worlds of design and art. Ms. Popescu-York herself embodies the modern warrior queen spirit, through her talent, her striking, positive and modern designs, as well as her career accomplishments.
A native of Romania, Alexandra Popescu-York is a world-class creative force, acknowledged by the industry's best early in her career. Among the numerous accolades she has garnered is Couture Fashion Show's Best Designer title in September 2016 and the recent inclusion of her paintings in the United Nations' 70th Anniversary International Art Exhibition in New York. Ms. Popescu-York's humanitarian efforts have earned her the title "Ambassador of Good Hearts and Romanian Culture." Ms. Popescu-York is also known as Alexandra Suciu in her double role as wife and mother.
Ms. Popescu-York's creations are characterized by each piece's symbolic depiction of finely selected themes. Recent themes include the capsule wardrobe collection of timeless essentials "Tour du Monde"; "Unleashed" (a rich collection of garments and accessories with a glamorous avant-garde look that is as edgy and unique as the emblematic New Yorker); "Âme de l'artiste" (soul of the artist); "Phoenix – The Legend"; "Metropolitan" (inspired by art, history and civilization highlights from the Metropolitan Museum of Art);  and "GranD'Or", a collection based on Ms. Popescu-York's own artistic creations.