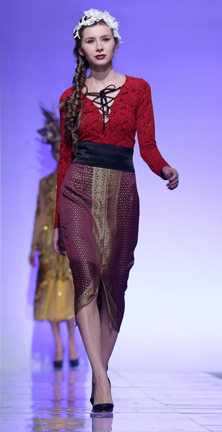 Rising design star Vanny Tousignant will present her latest collection at Couture Fashion Week New York's 24th season. The runway show will be held at 4:00 pm on Sunday September 11, 2016 at the Crowne Plaza Times Square Manhattan, 1605 Broadway, New York City.
A native of Indonesia, residing in New York City for over 20 years, Vanny Tousignant began designing clothing at age 12. She launched her own fashion line in 2013, utilizing rich traditional Indonesian fabrics in her designs.
Vanny Tousignant's latest collection is entitled "Dare to Be Gold" and features a color palette of gold and red in the distinctive songket fabrics from the Indonesian island of Sumatra.
Ms. Tousignant believes that all women should not be shy about wearing whatever they like to highlight their unique personalities and characters.