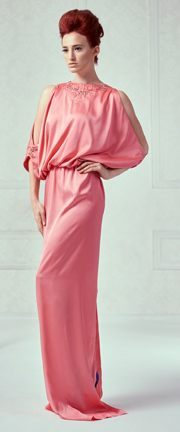 In his debut showing at Couture Fashion Week New York, designer Pawan Seewooruttun will present the latest collection for his New Miuz label at 8:00 pm on Friday September 9, 2016. The highly anticipated runway show will be held in the Broadway Ballroom at the Crowne Plaza Times Square Manhattan, 1605 Broadway, New York City.
Entitled "Sunspring," New Miuz's classic and elegant collection for Spring/Summer 2017 is inspired by the peaceful and beautiful island of Mauritius. It conveys the story of the first sunset of summer from a delightful flower garden, focusing on the sun's transition between dawn and dusk. The primary palette is light peach, coral and ivory, reflective of the stunning tangerine and coral lights and shades that paint the sunset clouds. The collection is made of the finest silk, chiffon and tulle, among other fabrics, and is complemented with hand made embellishments such as embroidery, appliques, and Swarovski crystals.
Born and bred in Mauritius, designer Pawan Seewooruttun holds a degree in Textile and Fashion Design from the University of Mauritius. He has experience in both fashion and graphic design, with a specialization in high-end fashion and couture. His clientele is mainly based in Europe, South Africa, Reunion and Mauritius. His New Miuz brand includes wedding and evening gowns, resort wear, uniforms and accessories such as handbags, clutches, shoes and jewelry. In addition to running his own business, Mr. Seewooruttun also works as an international consultant for laser and nanotechnology finishing in Spain and Los Angeles. He has shown his designs at numerous prestigious fashion events worldwide, and has been featured in prominent publications such as Lifestyle Magazine, Scope, 5-Plus, Le Matinal and Le Defi, among others. Accolades include the Best Fashion Designer of the Year Award by Runway Dubai (2015), the Most Creative and Talented Fashion and Design Graduate by RT Knits (2011-2012), Best Designer's Dress for Miss Mauritius (2012), and being named as a finalist in the Origin of Africa Fashion Competition. Mr. Seewooruttun has designed gowns for beauty queens including Miss Jamaica UK 2014.