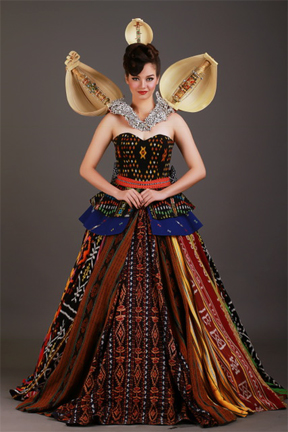 Prominent Indonesian fashion brand LeViCo will present a stunning collection of handcrafted masterpiece designs during the next Couture Fashion Week New York. The much-anticipated fashion show will be held at 4:00 pm on Sunday September 10, 2017 in the Broadway Ballroom at the Crowne Plaza Times Square Manhattan, in New York City.
The creative and entrepreneurial force behind the LeViCo brand is founder and designer Julie S. Laiskodat. Launched in 2012, LeViCo is a showroom, boutique and fashion label focused on fostering and promoting the exquisite hand woven fabrics of the Nusa Tenggara Timur (NTT) province of Indonesia to both the domestic and international markets. These beautiful fabrics are perfectly suited for use in fashion designs as well as interior design. They consist of a wide array of patterns, colors and textures. Each tribe (suku) creates fabrics with their own special techniques, meanings and symbolism inspired by the natural world including animals, elemental forces, Mother Earth, myths, social representations, cultural events and more.
Through the support of LeViCo, these extraordinarily gifted weavers are preserving their timeless traditions and cultural heritage, passing them on to the upcoming generations. LeViCo has presented its collections at prestigious fashion events including New York Fashion Week, Indonesia Fashion, Jakarta Fashion Week and more.