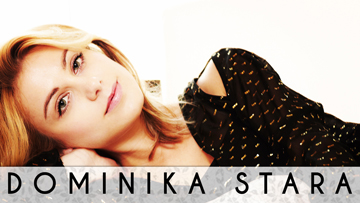 Rising pop star Dominika Stara is set to perform at the next Couture Fashion Week New York. Part of the prestigious event's 23rd season, Ms. Stara will perform as part of the fashion shows at 8:00 pm on Saturday February 13, and at 6:00 pm on Sunday February 14, 2016. Shows are held in the Broadway Ballroom of the the Crowne Plaza Times Square Manhattan, in the heart of the Big Apple.
In 2009, Dominika Stara beat out thousands of hopefuls and landed a spot on Czechoslovakian Superstar, her country's version of American Idol. Dominika took first place for the women, third overall and she never looked back. With over 79,000 Facebook fans, Dominika has won the hearts of countless people worldwide. She recently signed a production agreement with Poncini Entertainment, and has recorded and released her debut EP. Her runaway hit Thinking Of You earned her an award for Best R&B Female at the New England Urban Music Awards. Dominika parallels her style of music to an Ipod. "Nobody has just one style of music on their Ipod. I listen to all kinds of music, so my album reflects that," says Dominika.
Since arriving in the USA, Dominika has been very busy. She has been visiting schools in the New England area speaking to students on the importance of education, and positive influences in relation to pursuing their dreams. Her goal is to inspire the youth to accomplish their goals by instilling the value of staying focused and driven.
At Couture Fashion Week, Dominika will be performing her new single Can't Buy My Love from her forthcoming EP My Time To Shine on Poncini distributed by VPAL.