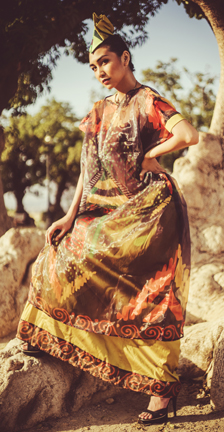 Emerging Indonesian fashion designer Decy Ramona will unveil her latest collection entitled "BarreAllo" (Sunrise) for her TYRAMONA label during Couture Fashion Week New York's upcoming 26th season. The fashion show will be held at 4:00 pm on Saturday September 9, 2017 at the Crowne Plaza Times Square Manhattan, New York City.
Decy Ramona, owner of TYRAMONA Indonesia, brings to life the splendor, tradition, heritage and pride of Indonesia's South Sulawesi region. This area is world-renowned for its exquisite carvings and art featuring a delicate balance of strength and beauty. The richness of South Sulawesi's weaving (tenun) is well-known, although few people think of South Sulawesi when they think of batik. The Toraja people of South Sulawesi use many symbols to represent their traditional life. A sunrise ("Barreallo" in their dialect) symbolizes bringing happiness and blessings to one's life.
Through her designs, Decy Ramona embodies the deep essence of Indonesia's rich traditions, bringing them to life in beautiful and practical apparel. TYRAMONA builds upon South Sulawesi's heritage, blending its batik and cultural symbols with other fabrics, leather, and bright colors to create truly unique fashions.
Decy Ramona launched her fashion career in 2011 and has grown her business to include brands for women, men, and children. Her designs have enjoyed enormous success and TYRAMONA has rapidly grown from a single outlet in Jakarta to a combination of business owned/leased stores and placements now in more than 12 locations in Jakarta, Makassar, and Toraja.  Ms. Ramona has showcased her designs at the Rich Heritage of Indonesia Fashion Show in Amsterdam, Fashion World Tokyo, and Expose Asia in Kuala Lumpur, among others important fashion events.