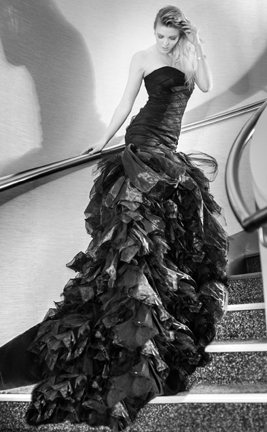 In her first appearance at Couture Fashion Week New York, Australian designer Azulant Akora will present her latest collection at 6 pm on Friday September 8, 2017. Part of the prestigious event's 26th season, the runway show will be held in the Broadway Ballroom of the Crowne Plaza Times Square Manhattan, at the "Crossroads of the World."
Azulant Akora is recognized for her unique and contemporary use of fine Australian merino wool. Merino carries with it the Australian story and spirit, something that inspires Azulant with every collection.
The Azulant Akora signature brand was launched in 2014 at the Celebration of African Australians to widespread critical acclaim. Fashion design is in the young designer's DNA, as Azulant learned to sew from her mother, Lesley who designed and crafted her own evening clothes. While studying for her law degree at Edith Cowan University, Azulant continued to pursue her passion for fashion through private studies in fashion design. In 2013 Azulant made her debut on the Australian fashion scene, garnering a highly coveted award at The Australian Wool Fashion Awards. The following year she again presented her designs at the event to positive reviews and received first place in the Formal Wear category, which was judged by a prestigious panel that included iconic Australian fashion designer Akira. Azulant's classic red "Gabriella" gown, made entirely of fine Australian merino wool, earned her a spot at  Melbourne Mercedes-Benz Fashion Week, closing the Live Rural Show. 
In 2015 Azulant Akora was invited to present the closing show at the prestigious LA Fashion Week Design Competition with her bird-themed collection entitled 'Birds of Paradise.' Following the success in Los Angeles, Azulant secured two important international stockists in Malaysia and is in talks with boutiques in the United States. In 2016 Azulant was invited to showcase her merino wool garments in an exclusive runway show for the WA Farmers Federation gala dinner and awards night at The Pan Pacific Hotel Perth. 2017 kicked off with key milestones for Azulant Akora. From opening a flagship boutique to showcasing at Vancouver Fashion Week twice and participating in Wool Week 2017.
Azulant Akora has been featured in many prominent publications including Australian Financial Review, The West Australian, Countryman Magazine, Nickii Jean Magazine and British Vogue, as well as the Australian Wool Innovation publication Beyond The Bale. Her distinguished and celebrity clientele includes Vogue Italia cover girl Ayor Makur, Samantha Sepulveda, and Nicole Jean Alexander, founder of Nickii Jean Magazine USA.