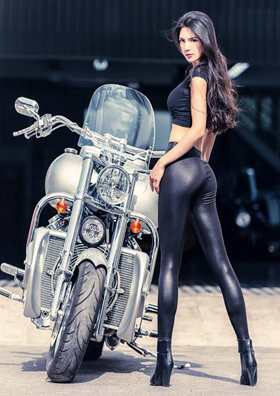 Chinese celebrity model and actress Candice Zhao will close the "Elysium Fields" collection by Andres Aquino fashion show, 8:00 pm on Saturday February 13, 2016 at the Crowne Plaza Times Square in New York City.
Candice Zhao is the winner of the 35th Miss Bikini International competition in China and runner up in the World competition. She is also the winner of the reality TV show The Transformers for China talent search, chosen from 70,000 contestants. As an actress, Ms. Zhao has appeared in films including Transformers 4: Age of Extinction, Monster Trucks, Can I Borrow Your Phone and The Truth, as well as in the remake of the Chinese film We Are Family. She has been featured in numerous newspapers and magazines such as Man's Uno, Esquire, Face, and Milk among others.
"I am so glad to have Candice close my show," says designer Andres Aquino. "She is a triple threat: talented, beautiful and smart, representative of the 21st century woman on the rise, bringing grace and style to the catwalk and inspiring other women around the planet to excel."
Mr. Aquino's "Elysium Fields" collection is a magical place where the immortal heroic paradise of Greek mythology meets the Champs-Elysees in a blissful confluence of art and fashion.
In addition to being an award-winning fashion designer, Andres Aquino, is the founder and producer of Couture Fashion Week New York, now in its 23rd season. He is also the founder and director of the recently-launched Global Short Film Awards Festival, which had seen entries from 81 countries for its inaugural edition. In addition, Mr. Aquino is the publisher of Couture & Luxury magazine, a photographer and poet. His work and innovations in show production have been recognized by publications and media around the world. He has appeared in such media as FOX TV Networks, major TV outlets in Russia, Indonesia, and Turkey, as well as Slavi's Show (Bulgaria), Algebra of Fashion (Ukraine), and publications including Collezioni Haute Couture, Book Moda, Prestige, Rendezvous de la Mode, Moda International and many more.