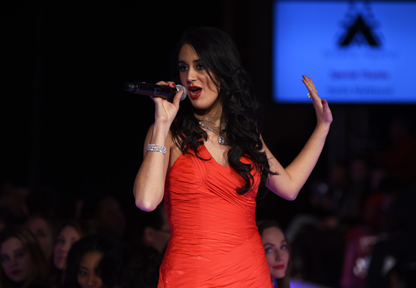 In addition to the fabulous fashion shows and parties, Couture Fashion Week NY has become well-known for its regular presentation of talented world-class performers. In her second appearance at Couture Fashion Week New York, rising singing star Stella Matteoni will perform at 6:00 pm on Friday September 11 and at 8:00 pm on Saturday September 12, 2015.
Stella Matteoni is a singer, songwriter and musician born in the South of France. She has been going to recording studios and backstage at concerts in France her whole life. Her father, Guy Matteoni, is a legendary writer-arranger whose career goes back to the 1970s. Stella has opened for such renowned performers as Umberto Tozzi and Dave, who asked Stella to perform five songs in support of his Olympia concerts in 2014. Also in 2014, Stella was named one of five winners of the international "Be a Rockstar" contest by Black XS Paco Rabanne. She has recorded two songs mixed by Darrell Thorp (Radiohead, Beck, Outkast…) at the legendary ICP Studio in Brussels. Her early 2015 performances at Couture Fashion Week received an enthusiastic reception from the delighted audiences.
Click for tickets and more information.
#cfwnyc #stellamatteoni #couturefashionweek #newyorkfashionweek