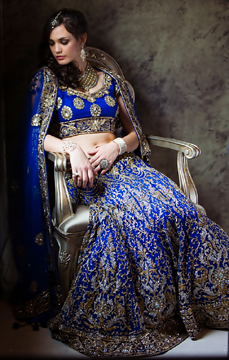 Designer
Ritu Boorgu
will present her latest collection for her Charisma label on the runway at
Couture Fashion Week
at 4:00 p.m. on Sunday September 16, 2012 in the Grand Ballroom of the Waldorf-Astoria in New York City. The event will be part of the "Jewel of India" collective fashion show.
Charisma is the couture brand launched by Ritu Boorgu who draws her inspiration from the rich heritage of India and the ancient traditions of Indian craftmanship. Ms. Boorgu strives to bring her clients on a journey into a charismatic and ravishing collection of exclusive designer wear; a seamless mix of the elegant and flamboyant, the modern and the traditional in a range of flawlessly tailored ensembles.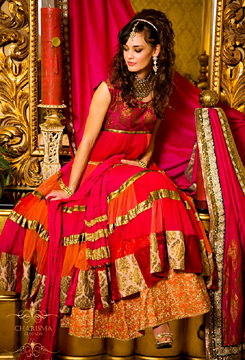 The upscale chic Charisma boutique located in one of Chicago's most affluent suburbs, carries one-of-a-kind designs crafted with perfection and precision. Starting out with a mere handful of private shows and events, Charisma now caters to clients all over the USA. The signature collections at Charisma feature distinctive styles and silhouettes rendered in vibrant color palettes, rich fabrics, intricate embellishments and detailed embroideries. Every piece is meticulously hancrafted and detailed on fabrics such as brocades, silks, silk chiffons , georgettes, satins and many more, customized to fit the client's need.
Charisma designs have been showcased at various ethnic bridal shows and events and featured in major fashion publications across the USA. Ms. Boorgu's distinctive couture collection was presented at Latino Fashion Week in Chicago in 2011, where for the first time, an Indian designer was asked to showcase their collection. The collection "Timeless" was very well received by the Latino community for its glamorous and colorful appeal.
Visit the designer's website for more information: www.charismaindia.com
---
Couture Fashion Week is a multi-day event showcasing couture and luxury fashion. It also includes exhibits of luxury brands and fine art as well as world-class entertainment and receptions. The event is held at the Waldorf-Astoria in New York City and is attended by upscale consumers, invited VIPs, the press and high-end store buyers. Couture Fashion Week offers unique promotional opportunities for luxury products and services.
Visit the event website for more information: www.CoutureFashionWeek.com
---
Contacts | Event Schedule and Tickets | Home
Photos courtesy of the designer.
© USAFashionShows.com, CoutureFashionWeek.com, An Andres Aquino Production.
All Rights Reserved.