Patuna Bushyhead to Show Ethereal Designs
at
Couture Fashion Week New York
Accomplished Georgian-American designer Patuna Bushyhead will show her latest ethereal designs at Couture Fashion Week
at 4:00 p.m. on Saturday February 1

8

, 2012.

Marking the designer's

first appearance at C

FW

, the fashion show will be held

in the

legendary

Grand Ballroom of the Waldorf-Astoria on Park Avenue, New York City.

It will be opened with a performance by singer

Nini Shermadini, fresh from her recent appearance on Greece's "X Factor."

A native of the Republic of Georgia, now a U.S. citizen, Patuna Bushyhead spent her childhood studying and performing ballet, acting, folkloric dance, classical piano, painting, and pantomime. As a teenager she served as host of two nationally broadcast TV programs in Georgia. At age 16 she entered the Tbilisi State Institute to study gynecology, and later switched her field of study to dentistry, graduating top of her class as a doctor of dental surgery. After working in a private dental practice, she met her American husband and they spent the next few years traveling the world including the USA, Mexico Western Europe, Russia, and the UAE, among other destinations. In 2008, Ms. Bushyhead made a career change from dentistry to her real passion: fashion. She is currently the owner and director of Patuna Fashion House.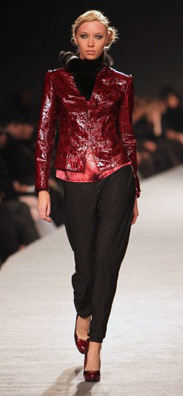 In recent years, Ms. Bushyhead studied sketching with a professional tutor on anatomy, dress/shoe design and portraiture, and earned a degree in fashion merchandising and design, sewing/dressmaking and cosmetology/esthetics. Using her own technique of applying Swarovski crystals to her designs, Ms. Bushyhead created a dress for a fashion show in Georgia themed: "Beauty will survive the world." She applied over 2,000 Swarovski stones by hand depicting the map of Georgia and the phrase "I love my Georgia!" The flowing dress represents the Georgian National Grape Tree.
Ms. Bushyhead designed a line of baby clothes which was presented in a nationally televised fashion show, as well as swimsuits for all contestants in the famous "Elite Model Look" competition. She designed the cocktail dress worn by Miss Georgia in the Miss World 2009 pageant held in Johannesburg, South Africa. Ms. Bushyhead was a judge in the Miss Georgia 2009 pageant, as well as designing the swimsuits worn by the contestants. She served as costume designer for a major motion picture in Tbilisi, and also made an appearance in the movie as an actress playing a Georgian designer.
In December 2010 Ms. Bushyhead was honored as Georgian National Television's "Extraordinary Guest of the Year", and was named one of the Georgia's top 20 successful women in a nationally televised event.
More information: www.PatunaFashion.com
---

Couture Fashion Week is a multi-day event showcasing couture and luxury fashion. It also includes exhibits of luxury brands and fine art as well as world-class entertainment and receptions. The event is held at the Waldorf-Astoria in New York City and is attended by upscale consumers, invited VIPs, the press and high-end store buyers. Couture Fashion Week offers unique promotional opportunities for luxury products and services.

Visit the event website for more information: www.CoutureFashionWeek.com

---

Contacts | Event Schedule and Tickets | Home

Photos courtesy of the designer.
© USAFashionShows.com, CoutureFashionWeek.com, An Andres Aquino Production.
All Rights Reserved.