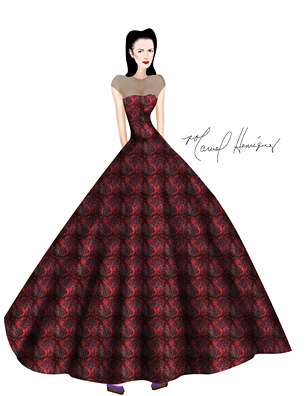 The creativity and ingenuity of prestigious Dominican designer Marisol Henriquez continues to surprise and delight with "RetroTexturas", her new collection for Fall 2014 created especially for Couture Fashion Week NY. The designer's third fashion show at the event will be held at 6:00 pm on Friday February 14, 2014 in the Grand Ballroom of the New Yorker Hotel, in the city's Fashion District.
Ms. Henriquez's latest collection for her signature Marysun label reflects a deep understanding of textures that have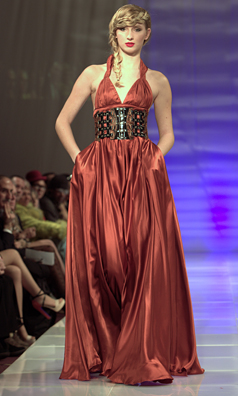 evolved over time, as well as their intrinsic value, bringing them to life in her exquisite designs for women. Ms. Henriquez has combined rich and varied textures, overlapped and joined in an amalgam of colors, harmonious and contrasting, resulting in romantic cuts, tight to the body, with deep necklines and complex creative structure. The designs return us to a past full of romance and femininity. Notable details include tight and translucent bodices, tucks, bows, craft flowers, buttons, braiding and ribbons creating an elaborate feminine universe inspired by the golden era of the 1940s, 50s and 60s. The distinctive pieces include boleros, dresses, bustiers, gathered, straight and A-line skirts, romantic blouses, pants and jackets, accessorized with the belts and handbags also designed by Ms. Henriquez.
The charming feminine fabrics include lace, organza, charmeuse and metallic materials. The color palette is in tune with the autumn season: silver grey, gold, black, red, shades of purple and ochre.
Visit the designer's website at: www.marysunint.com
---