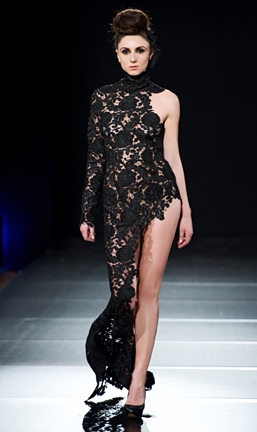 Rising design star Kristin Zimmermann will return to Couture Fashion Week in New York City with the presentation of her latest inspired collection. The fashion show will be held at 4:00 pm on Friday February 14, 2014 in the Grand Ballroom of the landmark New Yorker Hotel, 481 Eighth Avenue in the heart of the Big Apple's Fashion District.
After completing her fashion studies in Hannover, Germany in 2010, Kristin Zimmermann launched her design career. At the age of 24 she started her own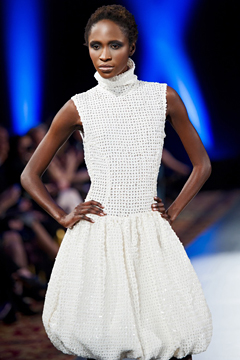 fashion label "3zehn", and opened her design studio "3zehn Fashion Lounge" in Erfurt in September 2010.

The number 13 has accompanied Kristin Zimmermann throughout her whole life. In primary school the number 13 had already been of great importance and soon became her lucky number. It is 13 which give her happiness.

The fashion label stands for elegant and extravagant designer fashion. Apart from the exclusive haute couture lines, the label offers wearable and formidable pret-a-porter collections.

Fabric is a major component of a garment for Kristin Zimmermann. Therefore she puts great emphasis on the high quality of the finest materials.

Through loving attention given to every detail and passionate affection for timeless and elegant designs, every garment is unmistakable and every collection unique.

"Each and every one of my unique pieces of work bears my mark," says the designer. "I do not have specific sources of inspiration. I am always inspired by the unexpected, and by everything that surrounds me. My style reflects what I like, what I feel and think ..."
---
Couture Fashion Week is a multi-day event showcasing couture and luxury fashion. It also includes exhibits of luxury brands and fine art as well as world-class entertainment and receptions. The event is held twice a year in New York City and is attended by upscale consumers, invited VIPs, the press and high-end store buyers. Couture Fashion Week offers unique promotional opportunities for luxury products and services.
Visit the event website for more information: www.CoutureFashionWeek.c
om
---

P

hoto

s courtesy of the designer.
© USAFashionShows.com, CoutureFashionWeek.com, An Andres Aquino Production.
All Rights Reserved.