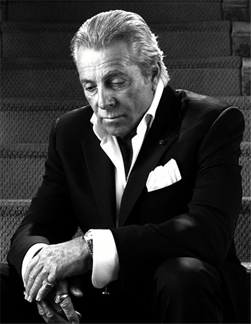 Renowned actor, singer, and entrepreneur Gianni Russo will open the "Mon Amour" fashion show by designer and producer Andres Aquino at Couture Fashion Week New York. The show will be held at 8:00 pm on Saturday February 15, 2014 in the Grand Ballroom of the New Yorker Hotel, in the cityís Fashion District.
The show will also include performances by a group of Broadway musical stars. Mr. Russo will be the guest of honor at the gala after the show. Tickets to the fashion show and gala are available online.
Gianni Russo has appeared in more than 45 motion pictures, but is perhaps best known for his portrayal of the infamous son-in-law, Carlo Rizzi in the iconic film The Godfather. He has also appeared in such motion picture hits as The Freshman, Rush Hour, Any Given Sunday, Sea Biscuit, and the recently released Send No Flowers, as well as in numerous television roles in Kojak, The Rockford Files, Prison Break, and more.
Along with his film career, Mr. Russo has sung at top show venues in New York City and throughout the world: the Copacabana, Rainbow Room, Carlyle Hotel, 5 years at Michael Feinsteinís at the Regency Hotel, and for the past 3 years, appearing monthly at the famous Le Cirque. His musical skills have been compared to legends such as Frank Sinatra, Dean Martin, Perry Como, Sammy Davis, Jr. and more, and his debut CD, Reflections, paid homage to some of these iconic singers. His follow up CD was released in 2010, and his self-titled wine label, Gianni Russo Wines, launched nationally in 2009.
A native of New York City, Mr. Russo donates his time and professionalism to many charities and non-profit organizations. He has been recognized as Man of the Year by Boys Town of Italy, UNICO National, the American Cancer Society, the Muscular Dystrophy Association and St. Judeís, to name a few.
---