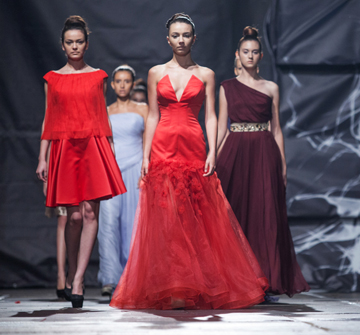 Rising couture design star Evgheni Hudorojcov will make his debut at Couture Fashion Week New York with the presentation of his latest collection of inspired creations entitled "Ciocarlia.". The fashion show will be held at 6:00 pm on Saturday February 15, 2014 in the Grand Ballroom of the New Yorker Hotel, in the city's Fashion District.
A native of Moldova, Mr. Hudorojcov showed a great talent for fashion design at a young age and was encouraged and supported by his mother, who later became his partner. He made his runway debut in 2009 to great critical acclaim with the presentation of his "Diplomat" evening wear collection. A year later, he presented his "Chic'n'Shock" pret-a-porter collection, a most audacious and original amalgam of colors and silhouettes. Mr. Hudorojcov's Summer 2011 collection entitled "Monolog" was a memorable set of colorful and airy evening dresses, even more sensual and refined.
Evgheni Hudorojcov's bright and delicate creative visions are implemented under the EHO label. He has become known for designs that strike a balance between conservative and shocking, combining fresh solutions and traditional concepts. Every detail of each EHO garment is an integral part of the visual ensemble of fashion and style.
The new "Ciocarlia" collection by EHO has its roots in the history and legends of the Romanian people and conveys high hopes for beauty in the future of a multipolar world. "Ciocarlia" means "Lark", and signifies the union of earth and heaven, the connection of two poles of human existence. Just as the lark takes flight and then returns to earth and makes her nest, the designer hopes that women wearing the designs in this collection will reach for the heights, but always remain down to earth, seeking the beauty around them. As the lark flies into the light of dawn, she evokes the ardor of youthful enthusiasm, expressing the joy of life. The collection is as sensual as the vibration of a bird's wings, and is dedicated to strong, refined, safe and gentle women everywhere.
Visit the designer's website at: www.eho-eho.com
---