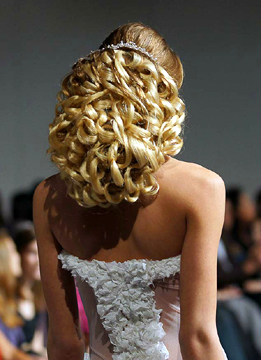 Elie Esper, celebrated hairstylist, creative director and founder of Elie Esper Salon and Bridal, and one of Fashion Week's prominent hair stylists, will return to Couture Fashion Week New York as Official Hair Stylist for the third time. The event will be held September 15-17, 2012 at the world-famous Waldorf-Astoria in New York City.
Mr. Esper began his university studies with a major in electrical engineering, but soon found he had a drive and passion for hair design. He completed his formal stylist apprenticeship at his brother's salon, in Beirut, Lebanon. He continued his extensive training in Paris, where he mastered up-do's and began to develop his unique styling techniques. In 2002, Mr. Esper moved to the United States and started his career in the New York City area.
Since then, Mr. Esper has gone on to hone his hairstyling skills and established a fast-growing international reputation. "Traditionalist" and "futurist" are two of the labels often applied to Mr. Esper when it comes to hair design. Elie Esper has brought to the USA his experience and incomparable techniques which have impressed the hairstyling industry for over 10 years. He has worked prestigious fashion runways for L'Oreal in Paris and the Middle East and currently runs a highly successful international salon that serves the entire New York City metro area. He also has clients all around the world. His work has been featured on the covers of Hia from Dubai, Artistic Magazine from Europe, Inclusion Magazine, Moda Style International, 201 Bride, High Style, The Knot, Sayidaty, among other publications. Mr. Esper has worked on films, music videos and television, including having a weekly spot on a morning television show for three consecutive years.
Elie Esper, being one of New York's most sought-out hairstylists by Asian and Middle Eastern celebrities, is also the official hairstylist for the 2011 and 2012 Couture Fashion Week in New York City, an event that attracts international haute couture designers from all over the world. When not collaborating with fashion designers on their runway shows or performing his duties as ambassador for A-list Arab celebrities on tour in the USA or styling on the "Stars on Board" luxury celebrity cruise, Mr. Esper holds an annual runway show to display his own new creations in hair design.
Elie Esper is also well-known in the bridal industry as the best couture hair designer, having earned recognition from top stylists, designers and artists in the field.

Mr. Esper's approach to styling is finding the balance in "exquisite and refined taste designed to suit all levels of glamour," whether it is for a bride, one of his regular clients, or a model ready for the catwalk. According to Elie Esper, the key to creating superb hair designs is being inspired by the client's individuality and extraordinary qualities. Each hair design is a sum of his total experience, trendsetting expertise, and a look into an intimate modern close-up shared by designer and client.

His unique approach brings out structurally refined hair styles, often creating both circular and geometric shapes in the hair. Stylings may include cascading loops and even intense shimmering organic floral brocade transformations. The work and passion put into each design is readily apparent.

The Elie Esper Salon offers a variety of services including Full Bridal Hair and Makeup Styling, Extensions, Color, Body Painting, HD Airbrushing, Theatrical/FX Makeup, as well as styling for music videos, film, television, runway and print. Esper's salon styles hundreds of brides a year, each with their own unique look.

Elie Esper

is at the pinnacle of his craft, always looking for new ways to realize his vision... one client at a time.

According to Mr. Esper:

"this is only the beginning."

For more information visit: www.elieesper.com
---
Couture Fashion Week is a multi-day event showcasing couture and luxury fashion. It also includes exhibits of luxury brands and fine art as well as world-class entertainment and receptions. The event is held at the Waldorf-Astoria in New York City and is attended by upscale consumers, invited VIPs, the press and high-end store buyers. Couture Fashion Week offers unique promotional opportunities for luxury products and services.
Visit the event website for more information: www.CoutureFashionWeek.com
---
Contacts | Event Schedule and Tickets | Home
Photos courtesy Elie Esper Salon.
© USAFashionShows.com, CoutureFashionWeek.com, An Andres Aquino Production.
All Rights Reserved.