Debut Collection of Traditional First Nations Designs from creenisgaa clothing
at Couture Fashion Week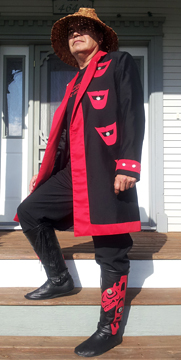 First Nations designers from Canada, Linda Lavallee and Luugigyoo Patrick Stewart will make their New York debut under the label creenisgaa clothing on the runway at Couture Fashion Week. The fashion show will be held at 6:00 pm on Friday September 6, 2013 in the Grand Ballroom of The New Yorker Hotel, 481 Eighth Avenue in the heart of New York City's Fashion District.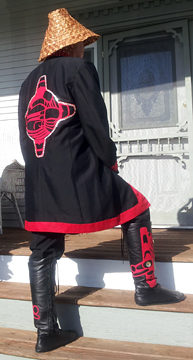 Linda Lavallee learned to make boots from her mother and grandmother and she studied at the Shoe School in Port Townsend, WA. "creenisgaa" stands for the Cree and Nisga'a nations to which Linda and Patrick belong. creenisgaa has been seen on the red carpet at the Canadian Juno Awards, the Aboriginal Music Awards, Cannes Film Festival and the Disney movie premiere of The Lone Ranger.
In their latest collection to be shown in New York, Ms. Lavallee and Mr. Stewart use a mixture of fabrics, from leather, cedar and birch bark to cotton, wool and ultra-suede in traditional Nisga'a and Cree colors featuring red, white and black. The collection features handcrafted and hand-painted leather boots based on traditional cree boot design.
---
Couture Fashion Week is a multi-day event showcasing couture and luxury fashion. It also includes exhibits of luxury brands and fine art as well as world-class entertainment and receptions. The event is held twice a year in New York City and is attended by upscale consumers, invited VIPs, the press and high-end store buyers. Couture Fashion Week offers unique promotional opportunities for luxury products and services.
Visit the event website for more information: www.CoutureFashionWeek.com
---
Photos courtesy of the designers.
© USAFashionShows.com, CoutureFashionWeek.com, An Andres Aquino Production.
All Rights Reserved.