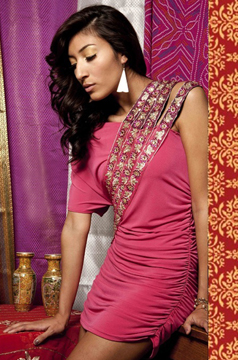 Up-and-coming fashion designer Citra Gala will present the latest collection entitled "Sona" (Golden) under her flagship Citrolina label at the next Couture Fashion Week in New York City. Part of the "Jewel of India" collective fashion show, the event will take place at 4:00 p.m. on Sunday September 16, 2012 in the legendary Grand Ballroom of the Waldorf-Astoria.
Citrolina is a fusion of high fashion and culture with a unique blend of beautiful Indian ethnicity and Italian construction techniques. The brand specializes in evening wear characterized by a potpourri of colors and textures, while retaining the common theme of this Indo-Italian fashion bond. The classic fits, flowing drapes and dazzling embellishments bring the wearer into a different world: Citrolina's world. Citrolina designs will be available online and through specialty stores starting in 2012.
Designer Citra Gala is committed to her vision and is passionate about demonstrating and creating art through her designs. Ms. Gala earned her degree in fashion design at FIT and soon after, successfully ventured into the evening wear market. She also designs ready-to-wear as well as custom dresses for many clients and plans to enter the bridal market soon. Citrolina designs have been shown on the runway to enthusiastic reviews at numerous prestigious locations in New York City including the Warwick Hotel, the Empire Hotel Rooftop, the Sky Room, and the Copacabana. Ms. Gala has been interviewed and showcased in fashion blogs and magazines, and she recently participated in Small Boutique Fashion Week in February 2012. She has been called one of the fastest growing upcoming designers in New York City.
Visit the designer's website for more information: www.citrolina.com
---
Couture Fashion Week is a multi-day event showcasing couture and luxury fashion. It also includes exhibits of luxury brands and fine art as well as world-class entertainment and receptions. The event is held at the Waldorf-Astoria in New York City and is attended by upscale consumers, invited VIPs, the press and high-end store buyers. Couture Fashion Week offers unique promotional opportunities for luxury products and services.
Visit the event website for more information: www.CoutureFashionWeek.com
---
Contacts | Event Schedule and Tickets | Home
Photo courtesy of the designer.
© USAFashionShows.com, CoutureFashionWeek.com, An Andres Aquino Production.
All Rights Reserved.