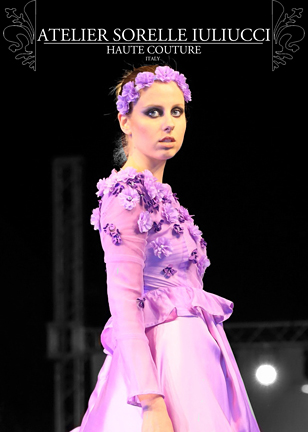 Italy-based designers Alessia and Simona Iuliucci will present the latest S/S 2015 collection for their Atelier Sorelle Iuliucci label at Couture Fashion Week New York. The fashion show will be held at 6:00 P.M. on Friday, September 5, 2014 in the Broadway Ballroom of the Crowne Plaza Times Square Manhattan, 1605 Broadway, in the heart of the Big Apple.
Atelier Sorelle Iuliucci was launched in 2012 from the passion and creative spirit of two sisters following their dream to transform the finest fabrics into a spirit of life through couture designs. Their stunning creations are always a tribute to femininity and elegance. Over the past two years, Atelier Sorelle Iulucci has shown on the runway in Milan, Bologna and Benevento.
The latest collection unfolds sumptuously and decoratively, in a triumph of luxurious floral appliques and embroidery. This season is gentle and elegant, sensually caressing like a cool breeze. Ethereal chiffon creates a liberated and carefree mood, while embroidery-sculpted fabrics evoke an otherworldly harmony and a glowing opulence. A sense of grace and balance is struck between opposites: vice and virtue, restraint and liberation, the highest purity and impetuous passion.
---
Couture Fashion Week is a multi-day event showcasing couture and luxury fashion. It also includes exhibits of luxury brands and fine art as well as world-class entertainment and parties. The event is held twice a year in New York City and is attended by upscale consumers, invited VIPs, the press and high-end store buyers. Couture Fashion Week offers unique promotional opportunities for luxury products and services.
Visit the event website for more information: www.CoutureFashionWeek.c
om
Photo courtesy of the designer.
© USAFashionShows.com, CoutureFashionWeek.com, An Andres Aquino Production.
All Rights Reserved.