ALICAT Avril Lemieux's "Stolen Loot" Collection at Couture Fashion Week New York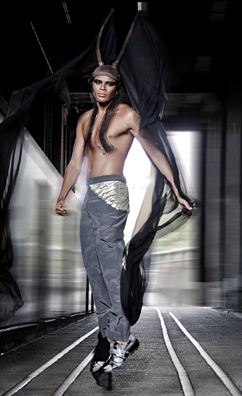 New York City-based designer ALICAT Avril Lemieux will present her latest collection at Couture Fashion Week at 8:00 p.m. on Sunday February 19, 2012. The fashion show will be held in the Grand Ballroom of the world-famous Waldorf-Astoria on Park Avenue, New York.
Marking the designer's second appearance at the prestigious fashion event, ALICAT Avril Lemieux's latest collection for men and women is entitled "Stolen Loot". Her inspiration for this line is the idea of high rollers, follies girls, and robbers. Embodying their free movement yet ever chained to the game and money. If you steal it do you truly own it...?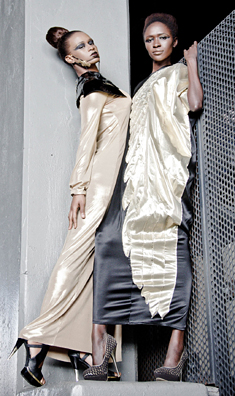 ALICAT Avril Lemieux hails from a long line of seamstresses and tailors. Coming from a family whose values are based in love and hard work, she was taught from a young age that if you want your dream to be a reality, you must make it happen, no one will do it for you. With a strong will and a devotion to hard work, she fearlessly strove to become the designer she is today. Though on a steady climb since 2007, ALICAT's turning point came in 2011 with the presentation of her "From The Gods" collection at Couture Fashion Week in New York.
To say ALICAT is gaining momentum is putting it mildly. In 2011 she was featured in Inprint Magazine and at The Muse Awards. Photographers, bloggers and fans continue to follow her in her wake. She feels that with the support of her family and friends, combined with showing at Couture Fashion Week, a gateway has been opened. As she's fond of saying "I have a great team and we are here because of each other."
More information: www.alicatavrillemieux.com
---
Couture Fashion Week is a multi-day event showcasing couture and luxury fashion. It also includes exhibits of luxury brands and fine art as well as world-class entertainment and receptions. The event is held at the Waldorf-Astoria in New York City and is attended by upscale consumers, invited VIPs, the press and high-end store buyers. Couture Fashion Week offers unique promotional opportunities for luxury products and services.
Visit the event website for more information: www.CoutureFashionWeek.com
---
Contacts | Event Schedule and Tickets | Home
Photography: Alexandra Szebenyik- Sandraphotography.com
Models: JaRed Cameron, Diarra Dosset and Ya Bi
© USAFashionShows.com, CoutureFashionWeek.com, An Andres Aquino Production.
All Rights Reserved.