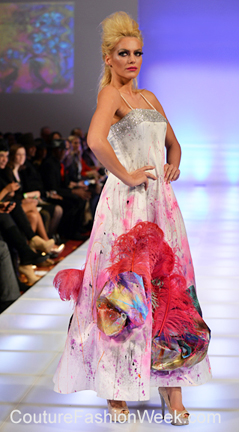 Alexandra Popescu-York is a Romanian-born and New York-based visual artist. Her unique runway shows are set against a backdrop of her hand-painted murals that highlight the inspiration of her collection. Her Spring/Summer 2015 line will be unveiled at
Couture Fashion Week New York. The fashion show will be held at 6:00 pm on Sunday September 7, 2014 at the Crowne Plaza Times Square Manhattan, 1605 Broadway, at the "Crossroads of the World."
Alexandra Popescu-York is the only participant at Couture Fashion Week who is both a designer doing a runway fashion show as well as an artist having an exhibit in the same forum. Her Spring/Summer 2015 collection is inspired by the artistic works in iconic museums around the world, with a concentration on the paintings of world-renowned artists in The Metropolitan Museum of Art in New York City. Ms. Popescu-York's pieces are artistic, imaginative, and visionary. She has designed a collection of gowns with the unique influence and inspiration from ten painters and various eras on world history. In addition to her fashion show on September 7, Ms. Popescu-York will exhibit her oversized paintings throughout Couture Fashion Week, September 5-7, 2014.
"My inspiration for this collection was to recreate, while wearing my designs, the feeling one experiences in such a beautiful museum. As an artist, I incorporate my murals as the background of my fashion show so the audience can appreciate the designs in the context of the inspiration from which they came," says designer Popescu-York. "Since I was a young girl growing up in Romania, it has been my dream to combine the art of painting with the art of fashion."
For more information about Alexandra Popescu-York's couture fashion and art collection, visit www.alexandraartanddesign.com
---
Couture Fashion Week is a multi-day event showcasing couture and luxury fashion. It also includes exhibits of luxury brands and fine art as well as world-class entertainment and parties. The event is held twice a year in New York City and is attended by upscale consumers, invited VIPs, the press and high-end store buyers. Couture Fashion Week offers unique promotional opportunities for luxury products and services.
Visit the event website for tickets and more information: www.CoutureFashionWeek.c
om

© USAFashionShows.com, CoutureFashionWeek.com, An Andres Aquino Production.
All Rights Reserved.