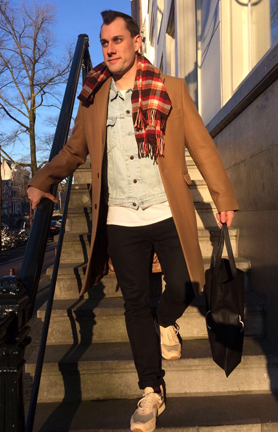 FashionUnited is a valued Couture Fashion Week partner. Get to know FashionUnited's country manager for the UK, US and Canada, Niklas Gilroy.
So you are the Country Manager for the UK, US and Canada at FashionUnited, what does this role entail?
I'm in charge of supporting our partners with Marketing and HR solutions. Together with my team, I consult fashion companies on Employer Branding or Marketing strategies and connect them with job seekers. This can happen via job postings in our career center, specific social media campaigns, newsletter features or other offers from the FashionUnited service portfolio. There is no standard approach, as every partner is different, that is why we offer tailor-made solutions. Therefore it is crucial to develop a clear understanding of what makes our partners unique and special to find suitable candidates for their specific company culture.
You also have a popular Instagram account and blog, so you have definitely been interested in fashion for a while. How come you decided to get even more involved in the industry?
I started my blog and Instagram during my business studies because I wanted to become an active part of the fashion scene. Both outlets provide me with a platform to communicate thoughts, interests and style ideas. Moreover, they are a great way to keep up-to date with current fashion events and to socialize with like-minded individuals around the world.
After my studies, I worked in the Luxury Beauty sector and then decided to join FashionUnited because I wanted to be part of a young and international team. As an Account Manager, I get to work with brands in all different segments of the fashion market which enables me to get a 360 view of the industry. Moreover, it is quite a fascinating task to assist companies with embracing Digital Media and the ever-growing importance of Employer Branding because there is still so much unused potential.
What advice do you have for others who want to break into the industry?
Get involved and try to gain work experience in the fashion industry. Internships are a great opportunity to get a first-hand impression of what the business side of fashion looks like. Moreover, I think it is essential to attend events and to be active on social media in order to build up a network. Nowadays, it is so easy to keep up to date with the latest news and become an active member of the fashion scene that it really is up to everyone to embrace those opportunities. What makes fashion so interesting is that there are many different ways of entering the industry: Whether you study a fashion-related degree or you come from a regular business/media background – you just need to be active and keep an eye out for interesting positions on websites like FashionUnited.
What do you think of the US fashion scene and what do you foresee becoming a major trend in 2017?
In my opinion, US designers are really making big moves at the moment because they are on the pulse of time when it comes to Digital Media and the current business realities of the fashion market. I think that more commercial designs like the current athleisure trend will stick around and many American designers are at the forefront of producing more affordable lines. Many US brands have been re-thinking their show schedules and started involving Social Media influencers in their design process which proves that they are willing to take on a pioneer position. Nonetheless, I believe that the Couture segment will always play an incredibly important role in the fashion world because that is where aspirational dreams and true craftsmanship are celebrated. In the end, fashion is an incredible art form and Couture designs are at the core of what makes it so special.
Visit FashionUnited for more valuable information.