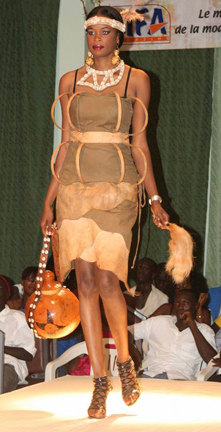 Rising Senegalese design star Maria Beuthame will present her latest collection during the 24th season of Couture Fashion Week New York. The runway show will be held at 8:00 pm on Friday September 9, 2016 in the Broadway Ballroom at the Crowne Plaza Times Square Manhattan, 1605 Broadway, New York City.
Maria Beuthame has been passionate about fashion since childhood, and through determination and great efforts, she is realizing her dream. Her fashion designs and jewelry creations are highly original and unique, reflecting a classic style with a modern edge. She strives to highlight and promote African culture, traditional values and heritage in her designs. In her latest collection, Ms. Beuthame gives preeminence to the "Lepi, "a woven cloth tinted in indigo blue, that is used by the Peuls ethnic group in Senegal for important ceremonies such as weddings. This distinctive fabric is mixed with colorful African wax print fabrics. All dresses are adorned with her own line of jewelry that features all-natural materials.
In addition to her fashion design career, Ms. Beuthame works to share her knowledge with young adults and is partnering with a friend to create an association to help street children. She is thrilled and proud to be making her international design debut at Couture Fashion Week.