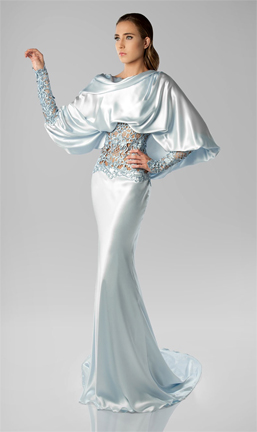 Renowned Spanish designer Isabel Zapardiez will show her latest breathtaking collection at Couture Fashion Week New York. Part of the prestigious event's 24th season, the fashion show will be held at 4:00 pm on Saturday September 10, 2016 in the Broadway Ballroom of the Crowne Plaza Times Square Manhattan, in the heart of New York City. A selection of Ms. Zapardiez's designs will also be part of the "Best of Couture Fashion Week" fashion show at 8:00 pm on Sunday September 11, 2016.
Creativity and innovation define Isabel Zapardiez's career and her experience in various design disciplines, although bridal design is her main hallmark. Ms. Zapardiez's passion for dressmaking is in her DNA, and she showed a very early interest in sewing and pattern design. She earned a degree in  Dressmaking and Pattern Design at Basque Country University, and went on to study fashion design in Madrid and Barcelona. She began her fashion career in the world of pret-a-porter, with her own brand as well as collaborating with other fashion brands on various projects. In 2002 she entered the world of Haute Couture and opened her first studio in San Sebastian, designing wedding dresses and clothing for special occasions. Her design approach is to address the "total look" of women in key moments of their lives, be it a wedding or other memorable events.
Isabel Zapardiez's work is framed within the universe of couture, due to the delicacy of fabrics, the exclusivity of designs and the detailed tailoring carried out at her workshop in San Sebastian. Her creations are elegant and subtle, but also avant-garde and highly original. Ms. Zapardiez's inspiration comes from contrasts and fusions, concepts and life experiences, the result of her professional experience from all the women she has dressed, as well as the aesthetics for which she is passionate. Isabel Zapardiez's studios are inspired by the feminine universe, full of sensations and details. They are places to experience the world of haute couture first hand, in an exquisite and delicate way.
Isabel Zapardiez has shown her designs on many important international catwalks, including the Gaudí fashion shows, Barcelona Bridal Week, Couture Fashion Week New York and the London World Bridal Show, among others.