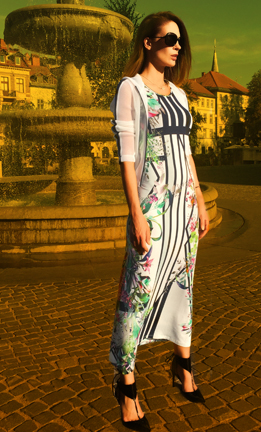 Fashion designer Jelena Pirkmajer will present her latest designs for her CLICHÉ label during the upcoming 26th season of Couture Fashion Week New York. Part of the 12th Annual Slovak Fashion Night, in partnership with CFW,  the fashion show will be held at 8 pm on Saturday September 9, 2017 at the Crowne Plaza Times Square, Manhattan, during the Fall 2017 New York Fashion Week.
Jelena Pirkmajer launched her label CLICHÉ in 1991, and opened the first eponymous concept boutique in Ljubljana in 1993, offering not only fashion and art pieces, but also accessories and creative design ideas. The designer was born in Ljubljana and studied in Ljubljana and London. Ms. Pirkmajer regularly exhibits her exciting collections and has established an enviable reputation through fashion showings at Milan, Paris, New York, and Tokyo fashion weeks. 
The CLICHÉ brand incorporates a strong sense of style and is intended for the trendsetting, fashion-savvy individual with a high FQ (Fashion intelligence Quotient). It is known especially for superior quality, innovative design and usability. The unique products are made with great care and devotion in Slovenia and the EU. The high-tech fabrics are both unique and timeless and can easily be mixed and matched with pieces from previous collections. CLICHÉ pieces of clothing enable the modern woman to reveal her fabulous true self.